Become Nigeria's Next Ice Block Business Millionaire in 6 Months
Have you given thought to those business opportunities that will thrive irrespective of economic slowdown or boom?
Have you desired a business that could instantly turn you into a millionaire in a reasonably short time of investment?
One of such businesses is ice block making. It is a business that people tend to look down on, but it is a very lucrative business, especially when operated on a large scale. Research has revealed that one can make between N250, 000 to N300, 000 profits monthly. It is a business whose returns on investment (ROI) is highly guaranteed. That means you can make your investment back in a reasonably short time after starting-up an ice block making business especially during peak period.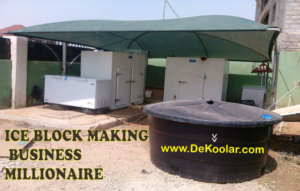 Ice block is water in its solid state. It is produced when water is fed into some nylon bags and then packed into an Ice block making machine for some hours to solidify. The high demand for ice blocks for cooling has created a booming business opportunity in cities, towns and villages across Nigeria.
We live in a very hot environment and so we consume lots of liquid/drinks. Except on medical grounds, every Nigerian would prefer cold drinks to warm drinks any time, any day. People who run businesses that deal on drinks will attest to the fact that customers will always demand for chilled drinks and when you can give them chilled drinks at every point, then you will be their first port of call as long as drinks is concerned.
But, not all these can afford to run generators endlessly. With the epileptic power supply and high cost of fuel in the country, it is next to impossible to achieve this feat without extra exorbitant running costs which may likely put an entrepreneur out of business; hence they need ice-blocks to cool to get their drinks chilled.
At home, the electricity supply problem is forcing households to use ice blocks to preserve their food and drinks.
The ice block business is indispensable due to the following reasons;
+ Country like Nigeria is located in one of the hottest region in the world
+ Our economy is such that majority of people involved in hard labour job to make their ends meet.
+ Most of the commercial cities always experience heavy traffic couple with hot weather which make people yearn for cold and chilled drinks, beverages, snacks and so on regularly.
+ One can imagine the number of chilled sachet water people drink every day. Another convenient reason why people prefer to use ice blocks is that they are faster and more efficient at cooling liquid.
Compared to cooling your drinks in a fridge or packing them in a freezer when you can't carry your iced drinks from home everywhere, ice blocks can provide chilled liquid in any location; whenever and wherever you want it.
Procedure and equipment needed for ice making business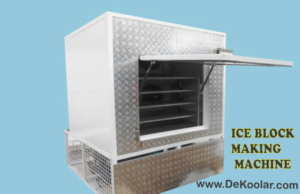 + Location – You can start from home or rent a shop. Ice block is more convenient to produce from home, but if it's on a large scale you will need a bigger space.
+ Ice block Making Machines and Deep Freezers
+ Generator that can conveniently power your machine and deep freezers.
+ A good water source. Water is very important in Ice block making business so, you will need to either sink a water bore hole or buy water from commercial water tankers in your area.
+ Nylon bag for molding ice block. When sourcing for nylon, you need to order correctly because there is a nylon specially made for Ice block packaging.
Target market/Customer Segments
Drinks Bar or Drink Sellers;
Parties and Events Hosts;
Restaurants and fast foods;
Mobile Hawkers;
Markets and Industrial users
Drug manufactures and pharmaceutical companies also need the ice block for cooling.
Funding
The capital required to start an ice block production business in Nigeria depends on the quantity of ice block you intend to produce per day. You can start with 50 blocks ice making machine which is less expensive and less profitable. But if you want to generate say N300, 000 per month, then you need about Three (3) Million Naira and above as capital to purchase your Ice block making machines and other equipment needed.
Browse our website or visit this page to check out our Ice Block Making Machine prices in Nigeria. The above figure does not include the cost of renting a factory space or the building to set-up and run your Ice Block Business as the cost of renting accommodation differs from one location to the other.
Delivery vehicle/truck
For the big investors, purchase of a mini cooling van or delivery truck to aid the prompt conveyance of your ice blocks to places within, and around your local markets.
Machine type
There are different types of ice block machines, they are differentiated by the number of blocks they can produce, it could be 50, 100, 150, 200, 300 blocks, and it could be as high as 500 blocks.
Some of these machines take between 8 to 12 hours to solidify before you can sell out your ice blocks depending on the size of the machines you can afford.
Two (2) Types of Ice Classification
1. Anti freeze
This is an act of using chemical to make the ice block form faster even than the required time. Ice block formed with this method are called MOULDS. This is not package in nylon but always in containers.
2. Dry Ice
This type of ice block is formed in nylon which are of different sizes depending on the price. This type of ice blocks is the most common, and highly demanded across Nigeria – especially considering its suitability for ice block usage in Nigeria.
Conclusion
The beauty of this business also is that it can be located anywhere either at home or in any vacant place, while the target for this market is wide and varied. Ice blocks are needed at various individual levels, as well as businesses across different markets.
As an entrepreneur, you can equally run Ice Block Making Business along with other businesses to further diversify your incomes streams.
Ready to start? Talk to us today – and let's discuss your requirements in details.